Pool diving
Today was finally my first day of practical training for the OWD! After all this anoying eLearning I now got to use my knowledge. The pool was tiny though. It was fun trying out everything and time flew by pretty fast. And I know now that putting on a wetsuit is like putting on a leather jacket that is a few sizes too small and you should start getting in it a few hours before arriving at the divesight. Just kidding!
Two Steps Snorkel
This might be the best snorkel sight in Kona (City we stayed). But before we get to that: the National park. The National park is right next to the snorkel spot. We went to the park first so we wouldn´t have to go through there, wet. The National Park is a park ( You´d never have thought of that, huh?) that's national (sorry. I´m just kidding). It was basically an area with a lot of palms and ponds, that showed, how the leader of the Hawaiians had lived and had texts explaining everything.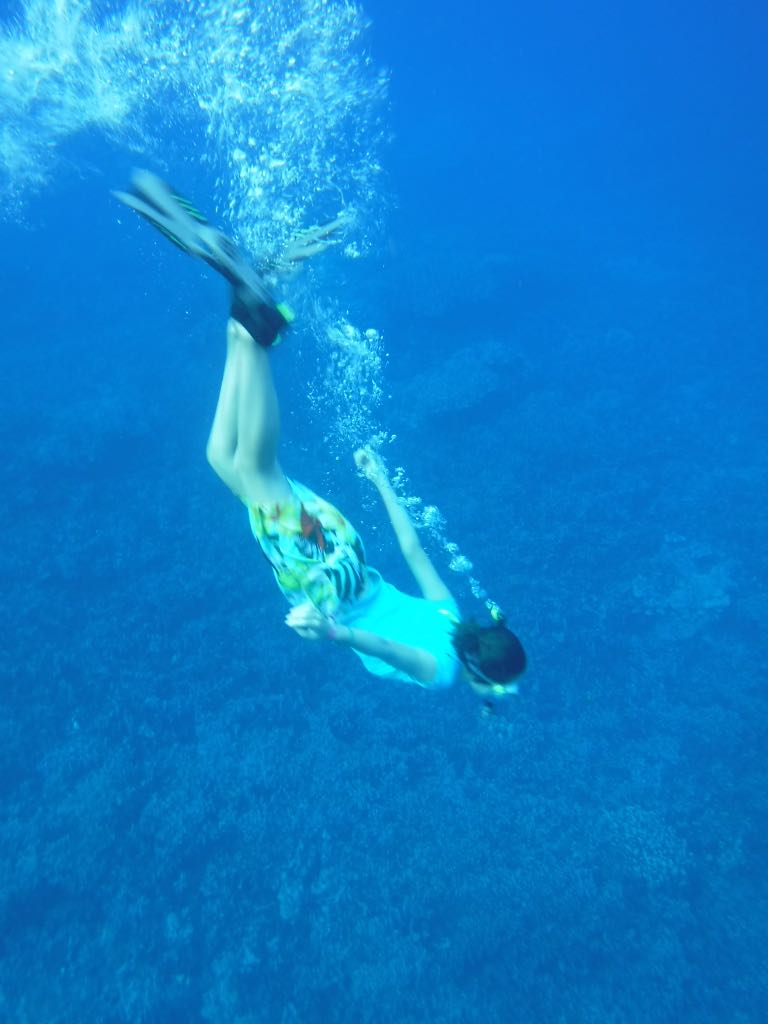 After getting our stuff we walked next door to snorkel. So we walked right over the rocks to the water. At that point I didn´t know, why it is called "Two Steps", so I picked a random place to get in. The waves were splashing against me and the fins made it even harder to stand on all the rocks. I fell a couple of times and it felt a little spiky. When the wave went back I had to realise that in every gap of the rocks (and there were a lot of them) was a sea urchin. So I got out of there as fast as I could and hurried back to safer ground. In the meantime Dad had spotted a few snorklers getting into the water easily. We marched over there and saw the two steps. It was easy peasy to get in. Even tough I didn´t see any of the stuff the others had told me they saw (like turtles, dolfins and manta rays) it was pretty cool.
Rebelskitchen
For dinner we stopped by at this place called Rebelskitchen, because our host had recommended it. I took a salad, that wasn't too bad, but I´ve eaten way better things.