Oh god. We have seen so many temples now, but till we are in Hawaii probably won't stop. And now I think you are able to guess what we did that day. Oh yes, that's right, we visited temples and yes plural. But I'll start at the beginning. Since our hotel had now edible breakfast we had to improvise, but it really wasn't that. While I was skyping with my best friend ( I miss her so much) my parents got some fruit and joghurt. After I had ended my conversation with my best friend I joined my parents for breakfast. Ok, actually they were already finished, so I ate alone. With filled stomachs we made our way to the bus station, which was the first part of mum and dads plan. We hopped of the bus and landed right in front of a waffle stand, which I couldn't resist. I know it was right after breakfast, but if you'd seen them. My parents had planned a walk they had found in their TripAdvisor. Before we went off we took a look in a chinastore. The things were very beautiful but they were everything else than cheap. So we started our trip to the first temple.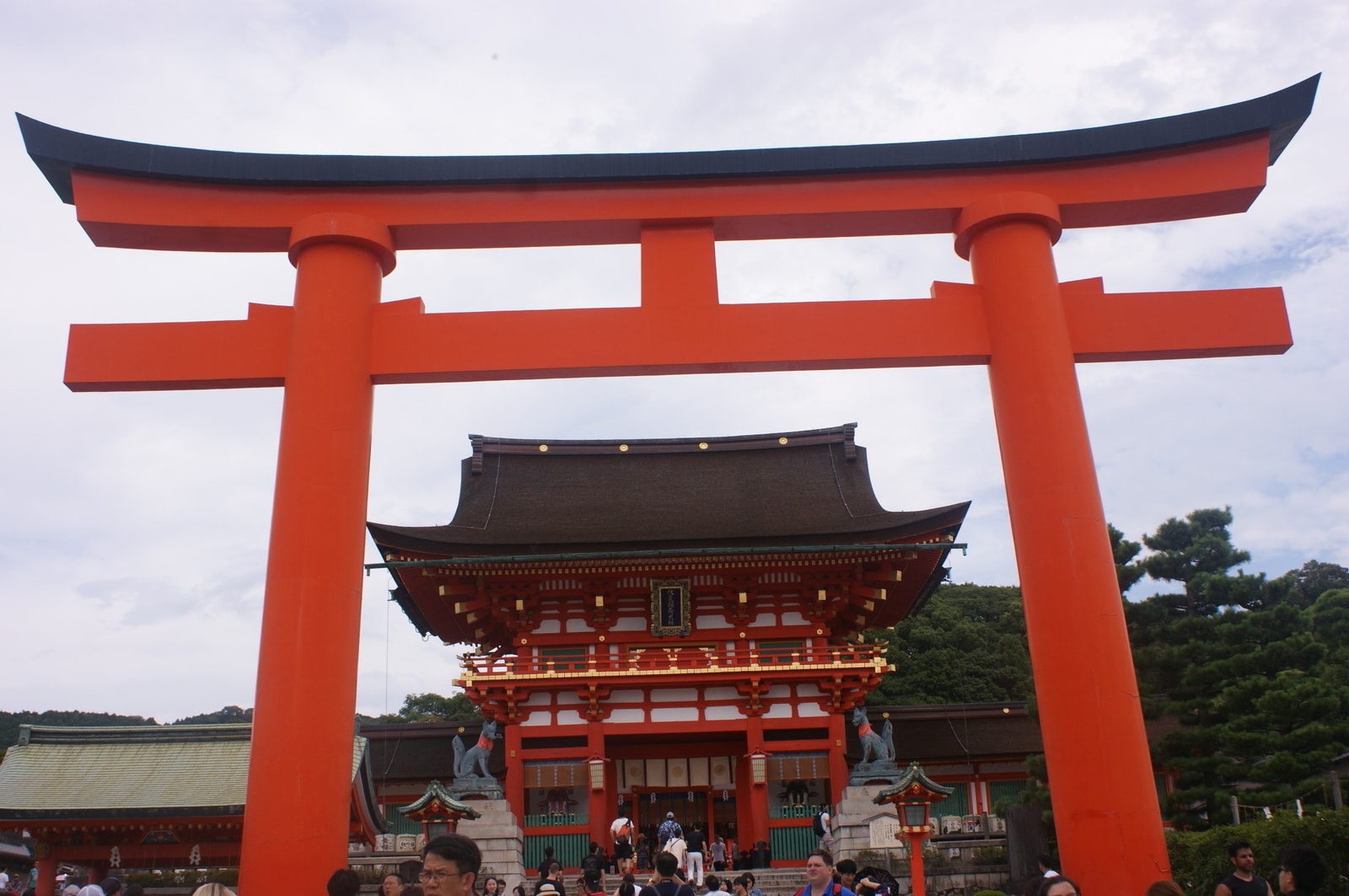 Even though Kyoto was mostly flat the temple was on a hill. We went up took a look at the crazy orange temple (along with 100 other Chinese. I think they followed us here. Oh no, I forgot. They are every where) and then moved towards the inside. Dad found out that you could walk on a path led by Buddha. And thats what we did next.
You have to imagine a dark room. No light at all. Your only orientation is the bead handle on your left. Which you can feel gliding through your hands while you move step by step towards the wishing stone. Finally you have arrived. Now a smooth light shines on the stone. Feel the cold stoneball and turn it. now you can make your wish. You have to move on because behind you are more people who want to make a wish. You can feel your way to the exit. A few turns and light shines in your face. You're done.
After this ritual we walked from one temple to the other and soon there was non in our radius left so we decided to go back to the first on were we took a turn left into a small street filled with tourists.
 There were many wierd foods you could try and of course thats what we did( at least dad and I). We tastet new things and I was pretty happy, till the next temple came. Don't get me wrong with the right dose of temple sightseeing it great, but after a few and believe me I have seen more than a few not only here but also in other countries, they all just look the same to you. Before visiting the temple we made a stop at the restaurant, because now mum was hungry. We ate two unpleasent soups and of we went up up up to another temple. After walking to the temple facility we walked towards our Hotel. We went through a park, I drank a nice refreshment and soon we passed by another temple.