Today we did something I had wished to do: The bamboo woods. The only thing we struggled with was to get there, because if you had been to Japan already, you would know that there are very many tracks and you can`t always identify them. I don't know why, but at the beginning we thought it would go very smooth, so we walked to the station where a woman told us where to go and what to do. We followed her explanation and got on the train she told us to. I had a look at the map and saw that we could better get off a station before the one we had planned to. After arriving we went to the information, because we were pretty much lost. She told us we had to go back to the station we came from. We saw no other possibility but to follow her advice (Yeah, I know it was kind of my fault we had to drive back, but moving on…). We arrived back where we started and were pretty much disoriented. After straying around a little we found something that seemed to be our track. We jumped into the car last minute and as it turns out it was the right one (hurray). It was crowded (not like in China of course) with people,  mostly Chinese and in addition to that came the heat. We boxed our way through the masses (of course not literally) and then found ourselves on a side road parallel to the river.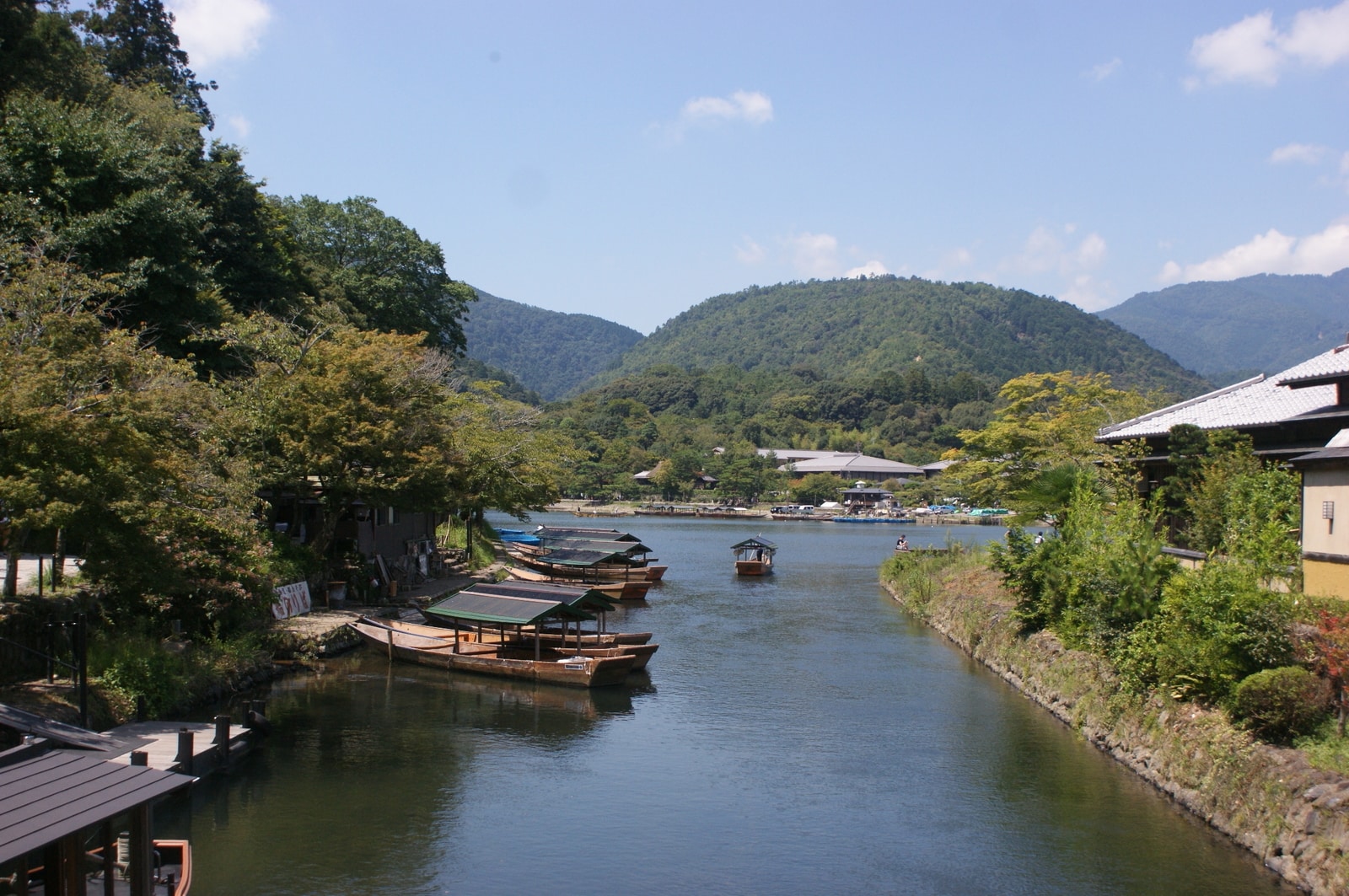 You would have thought a shadowed street surrounded by trees directly beside the river must have been crowded as hell, but no actually not at all. We even found a spot where you could go into the water. Sadly we didn't have any bathing clothes with us, but dad and I put as much uncovered body in the water as possible. Then we hiked up to a temple from which we had a great view.
And then we made our way to our actual destination. And now the strangest thing happened. We met the woman we had taken with us to the train Station in Kanazawa. I mean of course we knew she was in the same City, but she could have been anywhere anytime. So we talked and she accompanied us on our way through the bamboo woods.
 It was rather disappointing, because it was really crowded and the light was not good at all. So we just kept wandering around. Gina, thats the woman we met, told like all those crazy stories she had experienced on her world trip. After a couple of hours we parted, because we we wanted to go back "home" and she wanted to see some kind of Kimono lanterns. On our way to the station we made a stop at a little bar, where my parents drank a beer. After a couple of minutes Gina walked by and again: what a funny coincidence. We found out she had been riding with her bicycle searching for the lanterns, which then turned out to be the station lights. We drank up, looked at the Kimono lanterns and then got on our train. Hungry we ate in restaurant nearby again. The food was great like the first time. I haven't eaten one distasteful thing in Japan so far.